RipFix
Regular price
Sale price
$19.99 USD
Unit price
per
Sale
Sold out
The best of both worlds.
With strength workouts becoming more and more challenging -- hand rips are at an all-time high, and grip strength has never been more important.

Liquid Chalk improves your grip strength far better than traditional chalk buckets -- while Classic RipFix heals your torn & callused hands almost magically overnight.
Share
View full details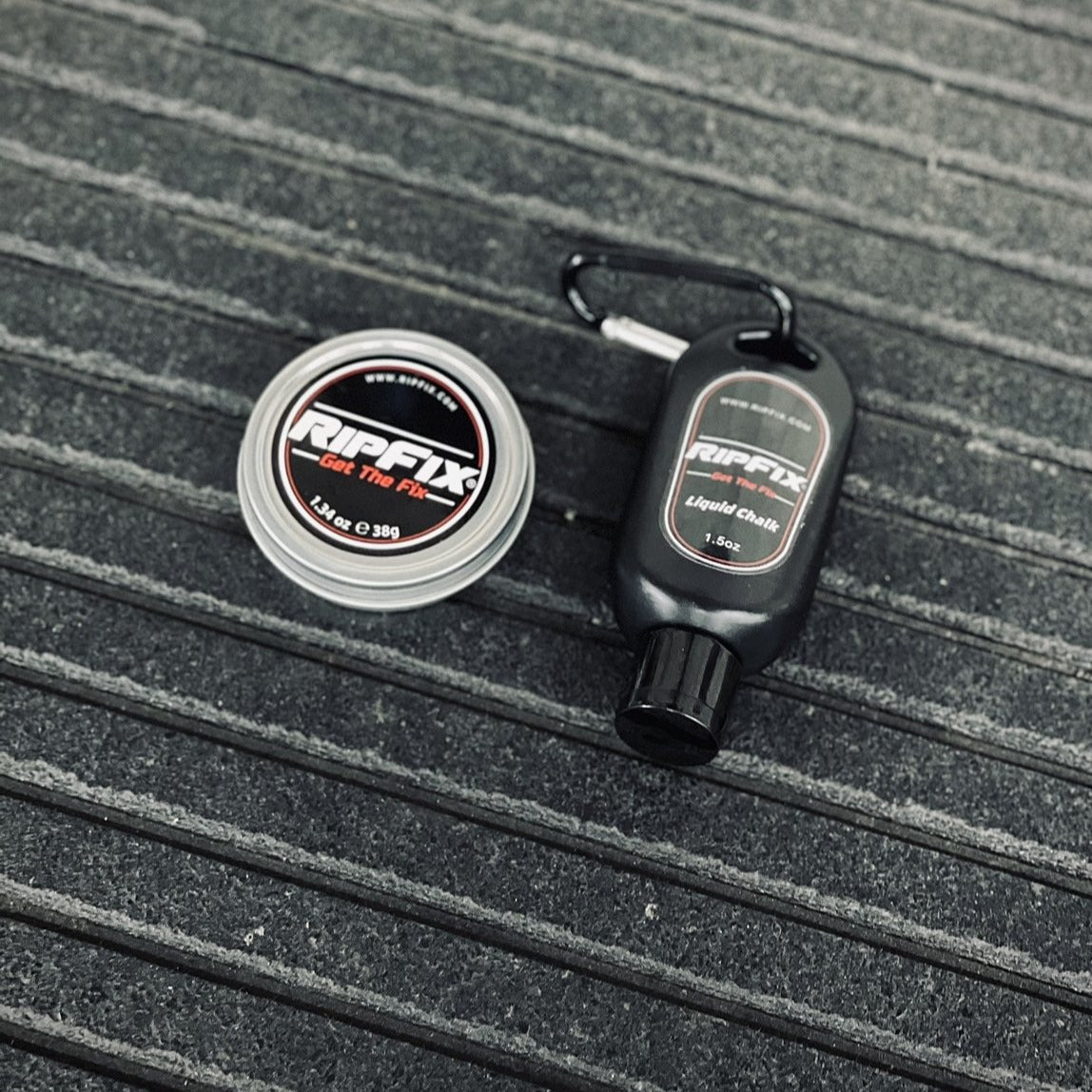 HOW TO USE?
For a fresh rip, clean and cut all loose skin & disinfect the wound before applying RipFix. Leave RipFix on the wound for several hours at a time -- overnight works best. RipFix® will speed up the recovery, getting you back to your training with less down time.

HEAL BLISTERS & RIPS IN 3 EASY STEPS
1
Apply RipFix to the damaged area
2
Cover the area with a wrap such as gauze or band-aid

3
Relax and enjoy the healing powers of RipFix!

Customer Reviews
Great for calloused hands!
I ripped last week and a friend recommended your product and I borrowed it. It is awesome so I ordered my own. I used the liquid chalk tonight and it didn't dry out my hands. Great for rope climbing and bar work for CrossFit.
10/20/2021
Robbie L.

United States
Love Liquid Chalk
Liquid chalk is by far one of my favorite items!! In use it everyday in the gym. It also helps my hands to grip better but also stay clean by not sharing a chalk bag
09/28/2021
Michele S.

United States
chalk up
This stuff is awesome!! I will most definitely be reordering.
09/22/2021
Anonymous

United States
Best liquid Chalk.
At first when I was rubbing my hands together and stopped I thought it wasn't working ,but than in a matter of seconds it turns into chalk and covers your entire hands. I did 50 toes to bar and didn't have to reapply at all. My hands were protected the whole time. I love this product ! I also love that it doesn't rub off onto everything too.
09/18/2021
Anonymous

United States
I love this stuff!
Used the chalk today and was blown away! I didn't feel the need to keep re-chalking. The best part, no mess!
09/17/2021
Matthew W.

United States
Habitual User
This stuff is the best for dry, cracked, or ripped hands. Even if my hands are intact i always rub a bit on before bed to keep them soft. even works great as a lip balm! I had the smaller tin and travel sizes before but had to buy the 5oz can as a refill. I keep some on me at all times!
09/16/2021
Katherine C.

United States
Everything you need!
Loving the liquid chalk! This stuff is better than the other stuff I was using, it's way less tacky and more "chalky" which is was I was hoping for. I love the rip fix balm and have been using it for years, having a travel size is a huge plus! I haven't used the clippers yet, but they look perfect for clipping those edges! Pumice stone lives in the gym bag already!
09/10/2021
Robert S.

United States
Wod life
Great. We love this product.
09/03/2021
Anonymous

United States
A+++ Quality Product
Went husband loves the hand palm repair. It's the only product that works. He's been doing CrossFit over 10 years and this is his go to. Thanks guys!!!
08/29/2021
Anonymous

United States
great product
The only complaint is the inner cover (inside the cap) - it's really hard to get off.